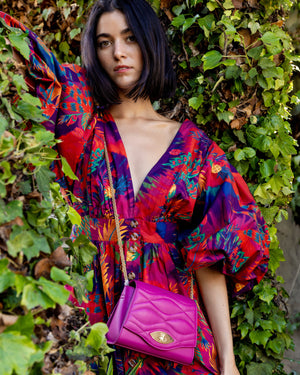 Ethical Looks Gorgeous on You!
Meet Mela
Not all pleasures in life have to be guilty.
Mela believes in creating luxury fashion that is sustainable yet spontaneous, eco-conscious yet effortless. Our community of bold personalities and big hearts lives in the present, but considers the future.
Why compromise when you can actually have your (vegan) cake and eat it too? Mela's high-quality, plant-based leather goods elevate sustainable style in a new, empowering way.
Mela wants you to feel confident that you not only look good out in the world, but that you are doing good for the world as well. Synthetic and animal leathers are so yesterday. Mela is made up of the forward thinkers of our future.
So, ditch the guilt. No one said you can't look fabulous while making the kind of change that truly matters.
Mela's Materials
Mela means "apple" in Italian and is pronounced may-luh.
Mela's World began with the potential to design and create gorgeous, guilt-free goods using the organic waste from apple juicing. The high cellulose content of apple solids is ideal for up-cycling. The result is new fabrics that are soft and durable with a luxurious look and feel.
Made in Italy, apple leather is sustainable, versatile and easily produced.
Mela's Mission
Mela will always be committed to the environment and ethical practices. A passion for fashion means nothing if we cannot ignite that same flame for generations to come.
Mela is proudly woman-owned. And ready to roar.