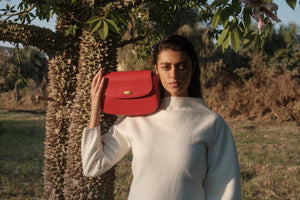 Ethical looks gorgeous on you!
Mela's luxe vegan leather goods splash up your style and support our planet.
Crafted using Italian apple leather, they are PETA-approved and cruelty-free. Each accessory is designed to be fashion-forward yet timeless, the perfect complement to your chic and eco-conscious spirit.
Vegan leather that's (almost) good enough to eat!
But please don't try to take a bite. Even though Mela's plant-based leather products are not edible, they do have a yummy look and feel. More importantly, they are picking up the planet one purse strap at a time.
Production of Mela's apple-derived vegan leather goods and accessories involves upcycling a renewable resource. This carries a much lower environmental impact, which is pretty delicious!